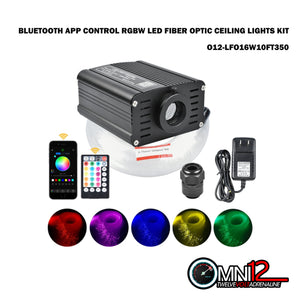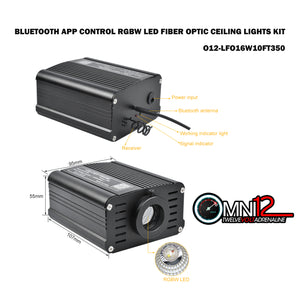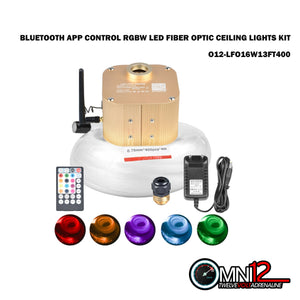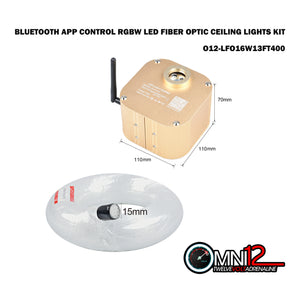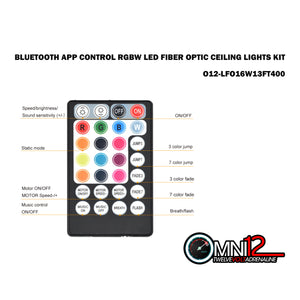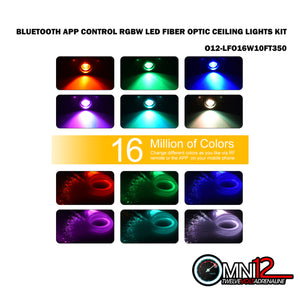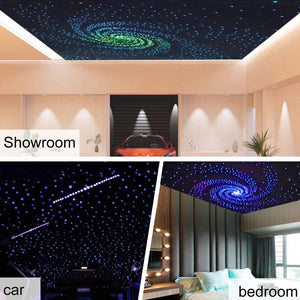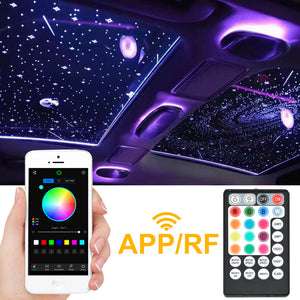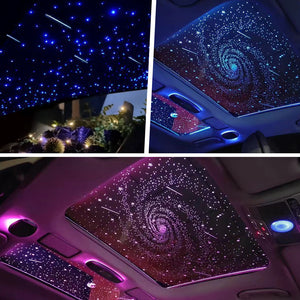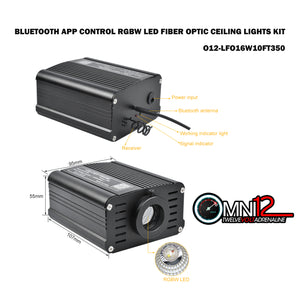 Bluetooth App Control RGBW LED Fiber Optic ceiling lights kit-0.75mm*350pcs*3m
These products need special order, ETA ~2 weeks. Please contact Sales@Omni12.com for details. 
Product specifications
O12-LFO16W10FT350 0.75mm*350pcs*3m
Fiber optic light operation temperature :-20 ~ 50 centigrade
Power:16W 
LED Chip: RGBW LED
Input voltage DC12V 
Light Color: RGBW  
Light change mode: Light Color: RGBW  colorful (static colors, fade, jump, breath)
Lifetime: Over 50,000 hours
Battery of Remote  : CR2025 battery
O12-LFO16W13FT400  0.75mm*400pcs*4m
Input voltage: DC12V
Power: 16W 
Color: RGBW
Light source device size: L110*W110*H83mm
Light body material: Aluminum
Lifetime: 50,000 hours
LED: CREE high power LED
Fiber head inner diameter: 20mm
Remote: 28Key RF
Features 
*Optic fiber light is a night lighting ideal light source, by using the theory of total reflection, 
light transmission through optical fiber to people need light anywhere for lighting.
*Optical fiber safety, itself is not charged, not afraid of water, can suite many environment.
*Optical fiber small size, soft and flexible, easy to create and make whatever you want shape.
*Optical fiber long life, low maintenance workload. 
*Optical fiber bright colors and beat rhythm, widely used to make curtain, screen, ceiling sky decoration.
APP control 
Please download the "My smart LED" APP 
 Connect a Bluetooth device 
            (1)open the Bluetooth of the mobile phone; 
            (2)power on the lamp; then open the APP; 
            (3)at this time, the app will automatically connect to the Bluetooth light fixture.
Package Included
1* 16W RGBW Fiber Optic Light
1* Power Adapter
1* RF Remote Controller
1* User manual
1* End Glow Fiber Optic Cable
0.75mm*350pcs*3m Or 0.75mm*400PCS*4M